"What, were you expecting some Devil Wears Prada type of shit?" Roger Hurni, OMA's co-founder and chief creative officer said to me the first day of my internship.
Working as a creative services intern at Off Madison Ave, this summer came with a lot of questions.
"Were you even born when this agency started?" (I swear I just have a young face!)
"Wait, is this your first internship ever?" (Technically, yes!)
"Have you even graduated college yet?" (Still one more year to go!)
However, besides inquiries regarding my age, the most common question I got was, "So how do you like it here?" To which I honestly answered every time, "I'm just so surprised at how genuinely nice everyone is."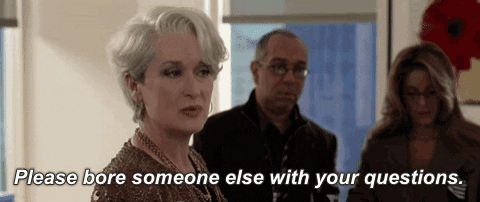 When I explained that to Roger, I was hit with The Devil Wears Prada reference. If you had talked to me three months ago, I was absolutely expecting any agency internship to be an Andy and Miranda Priestly situation. I psyched myself out the week between the call from Ben, the creative director, and my first day on the job. I wanted to prepare myself. I wanted to make sure I was at the top of my game, ready to do anything they asked, and prepared to take harsh criticism. The advertising world can be brutal. Agency employees are ruthless, opinionated, always fighting for creative control, and only the most hard-headed, obscenely gifted survive – right?
What might be the reality at most other agencies couldn't be farther from the truth at Off Madison Ave.
The environment at OMA is unlike anything I have ever experienced or could have expected. No one has a personal office; everyone has their own desk space in an open concept room with giant floor to ceiling windows that impressively bring in views of Papago Park and beautiful blue skies every day. It doesn't matter if you're a department head or an intern like me, everyone sits together in a large collaborative environment. It makes it incredibly easy for questions to be answered, critiques to be given, lunch plans to be made, or memes to be shared. The mentality that any idea can be the next great idea reigns supreme, and even as someone with no professional experience, I've always been told my opinion matters – which means the world.
A lot of collaborative working environments have gotten a bad reputation for housing complacent, dependent employees who are all talk with no work to back it up. Even though the culture at OMA is synergetic, friendly, and laced with witty jokes, the people here are undeniably the most talented and insanely hard workers I've ever met. From last-minute deadlines to back-to-back meetings, I've watched the people here conquer tasks with more efficiency and finesse than I ever thought humanly possible. It's incredibly inspiring, and it pushes me to soak up as much of the knowledge they pass on to me that I possibly can.
Speaking of absorbing, I've said that I learn more in one week at OMA than I have during an entire year of college. This is not a facetious statement in any way. This internship has not been an easy one filled with menial tasks and coffee runs. I've been given project after project of real design work for clients. I've been taught more shortcuts and skills in Photoshop, Illustrator, and InDesign than I could even count. I've even been given assignments where my design sense was valued enough to make branding choices such as picking colors and typography. It's crazy to see how much my creative abilities and efficiency have improved in a matter of weeks, all because of the opportunities I have been given while working at OMA. It has been unbelievably beneficial to have my designs reviewed by the creative team, and it is one of the highest honors to receive when I'm given feedback that what I'm doing is good. The work that I've had the privilege of creating here has been challenging, stressful, and daunting at times, but it has easily been the most invaluable and rewarding experience of my entire life.
Clearly, working here is unlike any other agency. This post was supposed to reflect the life of an "intern." However at OMA, I've never truly felt like one. And that's the best feeling ever.
Hannah Sutter is a multi-talented summer and fall creative services intern at Off Madison Ave. She's going into her senior year in Advertising and Graphic/Web Design at Grand Canyon University.